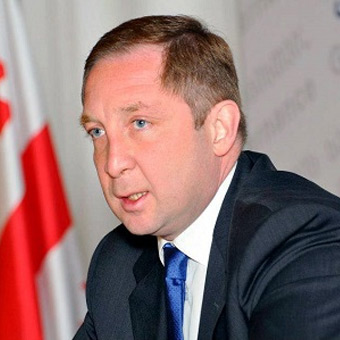 Alex Petriashvili
Senior Fellow, Rondeli Foundation
Ambassador Alex Petriashvili is a career diplomat with over 20 years of experience representing his country in both bilateral and multilateral formats at the highest levels. Ambassador Petriashvili started his career in 1995 when he became a State Adviser to the President of Georgia at the Foreign Policy and Security Analysis Service, a position he held until 1998. Since 1998, Ambassador Petriashvili has held various positions in the Ministry of Foreign Affairs of Georgia including the Head of the Division of Bilateral Relations and the Deputy Director of the Politico-Military Department (1998-2001). He also served as a Senior Counselor at the Embassy of Georgia to Austria, the Permanent Mission of Georgia to the OSCE, and international organizations in Vienna (2001-2002). From 2002-2004, Ambassador Petriashvili was a Senior Counsellor at the Embassy of Georgia to the United States of America, Mexico, and Canada. He served as the Ambassador Extraordinary and Plenipotentiary of Georgia to Turkmenistan and the Islamic Republic of Afghanistan from 2004-2009. In October 2012, he became a member of the Georgian Parliament. From 2012-2014, he served as the State Minister for Georgia's European and Euro-Atlantic Integration.
Ambassador Petriashvili's political experience is mostly related to the Free Democrats political party where he served as Political Secretary from 2010-2012 and Secretary General from 2014-2016.
Currently, Ambassador Petriashvili is an international affairs anchor, the host of a weekly TV program, The World as Such, as well as the co-host of the weekly political talk show, Political Friday on TV Pirveli. He also is a contributor to international and security affairs for Forbes Georgia.
Ambassador Petriashvili received his degree from Tbilisi State University's Faculty of Economics and Social Geography in 1992. He also graduated from the NATO Defense College, in Rome, Italy in 2000.