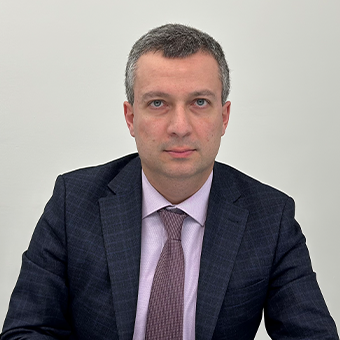 Dr. Benyamin Poghosyan
Dr. Benyamin Poghosyan, Founder and Chairman, Center for Political and Economic Strategic Studies, Senior Research Fellow, APRI Armenia 
Dr. Benyamin Poghosyan has been the Founder and Chairman of the Center for Political and Economic Strategic Studies since 2019, and Senior Research Fellow, APRI – Armenia, since January 2023.
He was Vice President for Research – Head of the Institute for National Strategic Studies at the National Defense Research University in Armenia from August 2016 to February 2019. He joined Institute for National Strategic Studies (predecessor of NDRU) in March 2009 as a Research Fellow and was appointed as INSS Deputy Director for research in November 2010. During his job at the only Armenian state think tank dealing with Armenian foreign policy and regional and international security, Dr. Poghosyan has prepared and supervised the elaboration of more than 100 policy papers that were presented to the political-military leadership of Armenia, including the President, the Prime Minister, the Minister of Defense and the Minister of Foreign Affairs. Since 2009 Dr. Poghosyan, as a speaker, has participated in more than 100 international conferences and workshops on regional and international security dynamics.
His primary research areas are the geopolitics of the South Caucasus and the Middle East, Armenia – India relations as well as implications of Russia – West confrontation for the region. He is the author of more than 250 Academic papers and OP-EDs published in leading Armenian and international journals.
Dr. Poghosyan is the Armenian coordinator of Armenia – Azerbaijan joint expert group on confidence-building measures, a project started in September 2021 with the support of the EU. The group prepared a report, "The South Caucasus from war to peace: 30 measures between now and 2030″, presented in Brussels on April 6, 2022, and will continue its activities in 2023. Dr. Poghosyan is also a member of the steering committee of the "Armenia-Azerbaijan Dialogue series on Economic Connectivity," an EU-funded project implemented by the Berlin Hertie School and Restart Initiative, which explores the possibility of economic cooperation between Armenia and Azerbaijan in transport, water management, and energy. 
In 2013 Dr. Poghosyan was a Distinguished Research Fellow at the US National Defense University College of International Security Affairs and was a graduate of the US State Department "Study of the US Institutes for Scholars 2012 Program" on US National Security Policy Making. He holds a Ph.D. in History and is a graduate of the 2006 Tavitian Program on International Relations at Fletcher School of Law and Diplomacy.