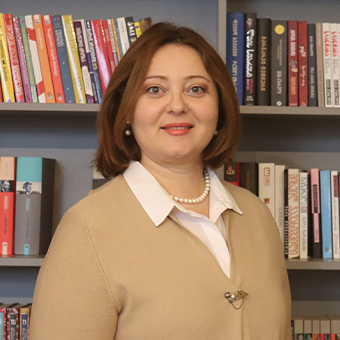 Eka  Akobia
Eka Akobia is the Dean and professor of the Caucasus School of Governance at Caucasus University. Since 2018, she is also an elected member of the steering committee of the Network of Institutes and Schools of Public Administration in Central and Eastern Europe (Nispacee). She has obtained her doctoral degree in International Relations from Tbilisi State University.
MA degree in International Relations from Baylor University, USA and her BA degree in Political Science from Hartwick College, USA.
Variously, she teaches Theories of International Relations (MA and PHD level), International Organizations, EU External Relations and UN Peacekeeping Operations courses.
Her sphere of expertise includes Georgia's European and Euro-Atlantic integration, Euro-Atlantic security as well as issues related to wider regional security, including Middle East and Asia. Her current research interests include interrelationship between democratization and security.
Eka Akobia has had an extensive public service career. She has worked for the Ministry of Foreign Affairs of Georgia from 2005 till 2016, holding various positions in Political and territorial departments. From 2012 to 2016 she served as the Director of the Asia, Africa, Australia and the Pacific Department.
She holds a diplomatic rank of a counselor.