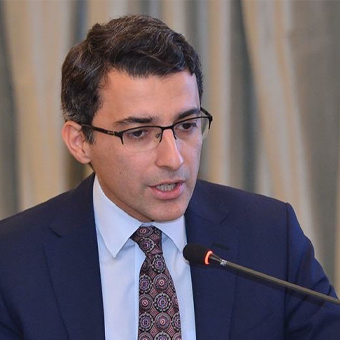 Dr. Fariz Ismailzade
Dr. Fariz Ismailzade is Vice-Rector for External, Government, and Student Affairs at the ADA University (since 2011). He joined ADA in 2006 and worked in the positions of Director of Executive Execution (2006-2010) and Executive Dean (2010-2011). Dr. Ismailzade has a Doctoral Degree from the Maastricht School of Management. He holds an Executive MBA from IE Business School (Spain), a Master's Degree in Social and Economic Development from Washington University in St. Louis, and a BA in Political Science from Western University in Baku with one-year interim studies at Wesleyan University in Connecticut.
Dr. Ismailzade has done research at the Center for Strategic and International Studies (CSIS) in Washington, D.C, and the Embassy of Azerbaijan in the US. His research interests include political affairs in the Caucasus and Central Asia, energy security, and development. He has presented papers at the symposiums at Heritage Foundation, MGIMO, Columbia University, Stanford University, Fletcher School of Law and Diplomacy, UCLA, Vienna Diplomatic Academy as well as at international conferences such as Association for Study of Nationalities (ASN), Wilton Park Conferences, Middle East Studies Association (MESA), German Marshall Fund and NATO Advanced Research Workshop. Mr. Ismailzade has regularly published with Eurasianet.org, Transitions on Line, Jamestown Daily Monitor and Central Asia-Caucasus Analyst, Institute for War and Peace Report, East-West Institute, Analysis of Current Events, Freedom House, and Caucasus Context. Most recently he co-edited the book "Liberated Karabakh" (ADA University Press, 2021), "South Caucasus 2021: Oil, Democracy and Geopolitics" (2011, Jamestown Foundation Press, 2012), and "Azerbaijan in Global Politics: Crafting Foreign Policy" (2009, ADA Press).