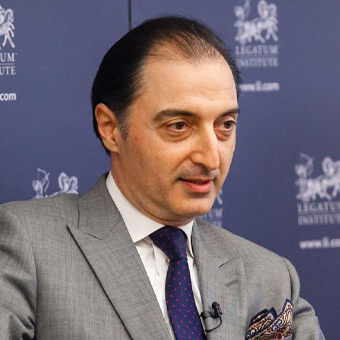 Giorgi Badridze
Ambassador Giorgi Badridze is a Senior Fellow at the Georgian Foundation for Strategic and International Studies (Rondeli Foundation) since 2013.
He also is an Expert at the Research Executive Agency of the European Commission (EU). 
Since 2014 he teaches Comparative Foreign Policy, European Political Systems, Georgian Foreign Policy, and British Politics at the Iv. Javakhishvili Tbilisi State University and Caucasus University. 
Ambassador Badridze is a career diplomat since 1991. He has held various positions in the Ministry of Foreign Affairs of Georgia including the Head of the Western European Department (1996-98) and the Director at the Directorate for the Americas (2004-2006). 
He served as the Minister Plenipotentiary and Deputy Head of Mission at the Georgian Embassies to the Republic of Turkey (1999-2002) and the United Kingdom (2007-09). 
From 2009-2013 Mr. Badridze served as the Ambassador of Georgia to the United Kingdom. He was also Georgia's Permanent Representative to the International Maritime Organization and the Ambassador to Ireland.
Giorgi Badridze studied history at the Tbilisi State University (MA with Honours) and International Relations and European Studies at the Central European University, Prague, and Budapest (MA with Merit). He was an exchange student at Williams College (USA) and has attended several courses in anti-terrorism at American University and the University of Maryland (with the US State Department Anti-Terrorism Assistance Program). 
Mr. Badridze has publications in the field of international politics and security, history, and culture in the US, UK, Canada, Turkey, Ukraine, Poland, Azerbaijan, and Georgia. He regularly speaks at international conferences and TV channels in Europe, the US, and Central Asia.