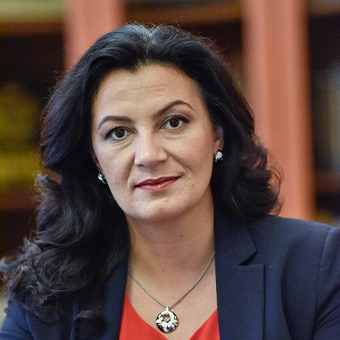 Ivanna Klympush-Tsintsadze
Member of Verkhovna Rada of Ukraine, Chair of the Committee of Ukraine's integration into the European Union
Deputy Prime Minister for European and Euro-Atlantic Integration of Ukraine (2016 – 2019).
Member of the Ukrainian Parliament, First Deputy Chairperson of Foreign Affairs Committee, Ukraine's Parliamentary Delegation to NATO PA leader (2014-2016)
Ivanna entered politics after the Revolution of Dignity in 2014. Prior to that, she worked in civil society and journalism sector. In 2007-2011, Ms. Klympush-Tsintsadze chaired International Charity Organization "Open Ukraine Foundation". Between 2011 and 2014 she was heading Yalta European Strategy network.
For 5 years (2002-2007) Ivanna was Radio BBC Ukrainian Service correspondent in the USA (Washington D.C.) and in the Caucasus (Tbilisi).
Prior to that, Ivanna worked in the East-West Institute's Kyiv Center (1998 to 2002). She began her career in 1993 with the Ukrainian Center for Independent Political Research (UCIPR).
Mrs. Klympush-Tsintsadze is co-editor of the book: "Black Sea Region: Cooperation and Security Building".
Education:
In 1993 Mrs. Klympush-Tsintsadze studied International Relations at the State University of Montana, USA. In 1992 she completed summer school course "History of Ukraine. Ukrainian Literature" at the Harvard Ukrainian Research Institute of the Harvard University (USA).
Ivanna holds Master's degree in speech therapy from Dragomanov State Pedagogical University (1994), Bachelor's degree and Master's degree in International Relations from Taras Shevchenko National University (1998).
Ivanna is fluent in Ukrainian, English, Russian, understands and speaks Polish, Hungarian and Georgian languages.