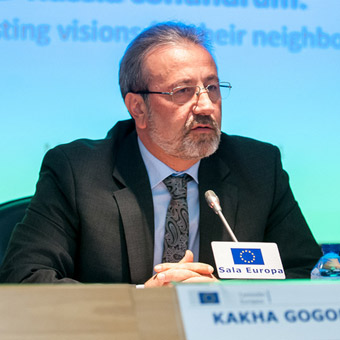 Kakha Gogolashvili
Senior Fellow, Director of EU Studies Center
Kakha Gogolashvili is a Senior-Fellow and the Director of the European Studies at the Georgian Foundation for Strategic and International Studies. From 1990, he worked in the Ministry of Foreign Affairs of Georgia in charge of international economic relations. From 1994 to 1996 engaged in official negotiations on Partnership and Cooperation Agreement (PCA) between Georgia and European Communities. For the subsequent four years (1996-2000) he worked at the Mission of Georgia to the EU as a counselor and later as a Deputy Chief of Mission/ Chargé d'affaires a.i..
As a Director of the Department of Relations with EU at the MFA of Georgia, Mr. Gogolashvili initiated establishment of a governmental Commission on PCA Implementation (2000). He holds a diplomatic rank of the Envoy Extraordinary Plenipotentiary.
For the last 14 years Kakha Gogolashvili has been engaged in different projects contributing to Europeanization of the country, in particular assisting Georgian Government in design and implementation of the institutional and legal reforms carried out according to PCA, ENP and other relevant frameworks for EU-Georgia relations. He worked as a director of such well known EC projects as SIPCA and GEPLAC (2004-2010) providing research and policy analysis on issues related to EU-Georgia relations. In the same time he was actively doing research and policy analyses on issues related to Georgia's prospective for integration into European structures, published considerable number of papers, contributed to as an author and editor of four books in the mentioned field.  In the field of conflict resolution Mr.  Gogolashvili has been working (still works) in capacity of project director in 4 multiyear international projects (ENP and Conflict Resolution in Georgia 2006-2008; Black Sea Peacebuilding Network – 2009-2014). Within the scope of one of the mentioned projects he conducted a research and contributed to a comprehensive report on EU's role in the conflict resolution in Georgia. Other two projects (2010-2013), led by Kakha Gogolashvili, were dedicated to the building of confidence between Georgian and Russian experts and were followed by respective publications of policy papers. He is a research package leader of WP5 in the multiannual FP7 project "Security-Democracy Nexus in the Caucasus" implemented by CASCADE scientific international consortium. Mr. Kakha Gogolashvili holds MA degrees in economics (Tbilisi State University, 1980), journalism (Georgian Technical University, 1980) and international relations (Diplomatic School of Madrid, Spain, 1994).