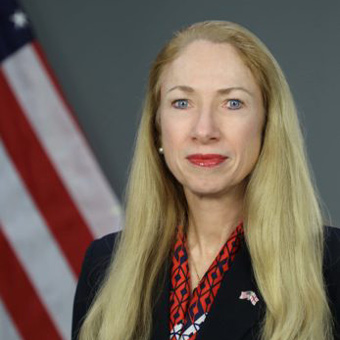 AMBASSADOR KELLY C. DEGNAN
Kelly Degnan is a career member of the Senior Foreign Service with the rank of Minister-Counselor. She arrived in Tbilisi on January 29, 2020, to serve as U.S. Ambassador to Georgia.
During her almost 30-year career, Ambassador Degnan has focused on political and political-military affairs. She was the Deputy Chief of Mission and Chargé d'Affaires ad interim in Rome and Pristina, and also served overseas at the U.S. Embassies in Botswana, Pakistan, and Turkey.
Ambassador Degnan was the Senior Civilian Representative to Brigade Combat Team Salerno in Khost, Afghanistan, where she earned the Secretary of State's Expeditionary Service Award, one of many awards she has received throughout her career. Ambassador Degnan was also the Political Advisor to the four-star Commander of U.S. Naval Forces Europe and U.S. Naval Forces Africa, and the Political Counselor at the U.S. Mission to the North Atlantic Treaty Organization.
In Washington, D.C, Ambassador Degnan served as the Deputy Executive Secretary of the Department of State under Secretary John Kerry, as a Special Assistant to Secretary Albright, and as a Special Assistant to three Undersecretaries for Political Affairs, Marc Grossman, William Burns, and Nicholas Burns.
Ambassador Degnan is from California.  She earned a degree in journalism from Northwestern University Medill School of Journalism and a law degree from the University of Southern California Law Center. Before joining the Foreign Service, she worked as both a journalist and a lawyer.  As an attorney, she served as Legal Counsel in the Federated States of Micronesia and the Republic of Palau while navigating the Pacific on her sailboat.  She speaks Italian and French, has studied Turkish and Urdu, and is learning basic Georgian.