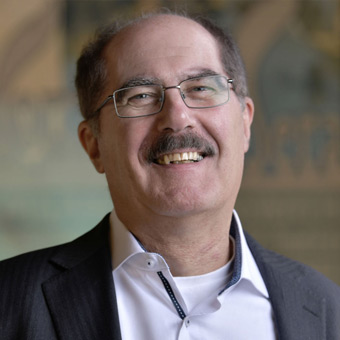 Prof. Klaus W. Larres, PhD.
Prof. Klaus W. Larres, Ph.D., is the Richard M. Krasno Distinguished Professor of History and International Affairs at the University of North Carolina (UNC) in Chapel Hill, NC. At UNC he also directs the Krasno Global Affairs & Business Council/Krasno Global Events Series, a public events series with prominent speakers. At present he is a Visiting Scholar at the Minda de Gunzburg Center for European Studies at Harvard University.
Previously he held the Henry Kissinger Chair in Foreign Policy & International Relations at the Library of Congress in Washington, DC, was selected as a Member of the Institute for Advanced Study (IAS) in Princeton, NJ, and was a Visiting Fellow at Germany's leading think tank the German Institute for International and Security Affairs (SWP) in Berlin. He also worked as a Counselor and Senior Policy Adviser at the German Embassy in Beijing, China.
EXPERTISE:
In his research and writing Larres focuses on transatlantic relations between the US and Europe, and the political, economic and security relations between the US-China- EU/Germany. He also works on US, German and British foreign policies, Russia's war on Ukraine, the politics of European integration, and the history of the global Cold War. He has great interest in global governance and leadership questions, including the politics of Winston Churchill.
PREVIOUS POSITIONS:
Larres is the former Clifford Hackett Visiting Professor of European History at Yale University. He also taught European Politics as a Visiting Professor at Johns Hopkins University's School of Advanced International Studies (SAIS) in Washington, DC. Larres also was a Visiting Professor at Schwartzman College/Tsinghua University in Beijing, Tongji University in Shanghai and the Beijing Language and Culture University and the University of Milan in Italy. He was a Senior Fellow at the think tank Center for Transatlantic Relations at Johns Hopkins University/SAIS in Washington, DC, was a Visiting Fellow at St. John's College, Oxford University, and a Public Policy Scholar at the Woodrow Wilson Center in Washington, DC. Prior to moving from the UK to the U.S. in 2009, Larres was a tenured full-time professor in Politics and International Relations at the University of London, the University of Ulster and Queen's University Belfast in Northern Ireland.
OTHER ACTIVITIES:
During his 2018 stint as Counselor and Senior Policy Adviser at the German Embassy in Beijing, China, Larres was engaged in the analysis of trilateral relations among China, the US and Germany. He also was involved in contributing to the preparation of Chancellor Merkel's 11th official visit to China as well as in many other issues of German-Chinese relations. On behalf of Ambassador Michael Clauss he represented the Embassy and the Federal Republic of Germany at a number of official occasions in China (in Beijing, Shanghai and Qingdao). In 2016 Larres was a Visiting Fellow at the Institute for International and Security Affairs (SWP) in Berlin, Germany's leading think tank, where he dealt with Germany's security and U.S. and China policy, co-organizing briefings for the U.S. and Asia experts at the German Chancellery and the German Foreign Ministry in Berlin in preparation of Chancellor Merkel's 9th official visit to China. Recently Larres has been appointed as a Distinguished Visiting Professor at the Indian Institute of Technology (IIT) in Mumbai (India's MIT). He serves on the International Board of the Bundeskanzler-Willy-Brandt-Stiftung in Berlin and the board of directors of the Carolina China Council in Raleigh, NC. He also is a board member of and regular contributor the Berlin based foreign policy journal WeltTrends and a member of the advisory board of the NC Zeitgeist Foundation in Charlotte, NC.
CURRENT BOOK PROJECT:
"China as a Cause of Tension in Transatlantic Relations and within Europe" – an analysis of the very different policies of the US and the EU, in particularly Germany, toward China from the 1980s to the Present.
RECENT BOOK PUBLICATIONS:
Uncertain Allies: Nixon, Kissinger, and the Threat of a United Europe (Yale University Press, 2022);
Terrorism and Transatlantic Relations: Threats and Challenges, co-ed. (Palgrave Macmillan, 2022);
Dictators and Autocrats: Securing Power Across Global Politics, ed. (Routledge, 2022);
Oxford Handbook of German Politics, co-ed. (Oxford University Press, summer 2022);
Understanding Global Politics: Actors and Themes in International Affairs, co-ed. (Routledge, 2020);
German-American Relations in the 21st Century: A Fragile Friendship, co-ed. (Routledge, 2019);
Blackwell Companion to Europe since 1945, ed. (Blackwell, 2009/20014);
The American Secretaries of State and Transatlantic Relations, ed (Routledge, 2010).
Most well known is probably Larres' monograph Churchill's Cold War: The Politics of Personal Diplomacy (Yale University Press, 2002) and also the co-edited book (with Torsten Oppelland) Deutschland und die USA: Geschichte der politischen Beziehungen (Darmstadt: Wissenschaftliche Buchgesellschaft, 1997).
EDUCATION & MEDIA ACTIVITIES:
Born in the Eifel region in the German Rheinland, Larres was educated at the University of Cologne (Dr. Phil, 1992), the London School of Economics (LSE) and the University of Cambridge in the UK. He has published widely – both books and articles – on contemporary history and international affairs and frequently gives interviews to the global media and is often consulted by media organizations & think tanks & international businesses. For further details regarding his speaking and media engagements, see www.klauslarres.org.