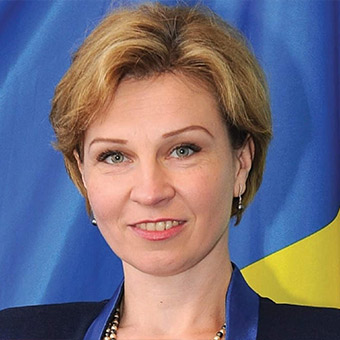 Liubov Nepop
Liubov Nepop graduated from the Taras Shevchenko National University of Kyiv, Faculty of linguistics. She joined the diplomatic service of Ukraine and from 1996 to 1997 was an attaché of the Department for Europe and America in the Ministry of Foreign Affairs of Ukraine. Until 2000 she worked as an attaché with the rank of Third Secretary at the Embassy in Budapest.
Ms. Nepop returned to the State Department, where she rose to become the First Secretary in the Department of Policy Analysis and Planning.
After serving as the Counselor at the Embassy in Sofia from 2004 to 2007  and moving to Budapest as an embassy counselor until 2008, Ms. Nepop then became Deputy Director-General of the Department for NATO at the State Department.
As a Minister-Counsellor, Ms. Nepop served as Deputy Head of the Mission of Ukraine to the EU before being accredited as Ambassador Extraordinary and Plenipotentiary of Ukraine to Hungary from May 2016 to July 2022.
Currently, Ms. Liubov Nepop holds the position of the Political Director of the Ministry of Foreign Affairs of Ukraine and is the President of the Danube Commission.