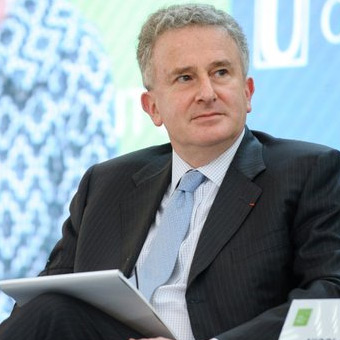 Nicolas Tenzer
Graduated from École normale supérieure, Sciences-Po Paris and École nationale d'administration (ENA), he has a Master degree in History.
A senior civil servant, he is a former adviser to the French Minister of Economy and Finance. He was investigator at the Court of Auditors and Head of Department in Strategic Planning Commissariat (Prime Minister's Office). He served as head of a special mission on international issues for the French government. He has led several missions for international organizations in Bosnia-Herzegovina, Bulgaria, Algeria, Ukraine, Montenegro, Egypt, Serbia, Haiti, Morocco and Jordan.
Nicolas wrote three official reports for the French government:.
He is the co-founder, former chairman and CEO, and now honorary chairman of Initiative for the Development of French Expertise Abroad in Europe and Worldwide (IDEFIE). He has been member of the board, CFO, and then executive president of Aspen Institute France (2010-2015).
On January 22nd 2022, he has been appointed non-resident senior fellow at Center for European Policy Analysis (CEPA).
Chairman of the Center for Studies and Research on Political Decision (CERAP) and the editor of the review Le Banquet (1992-2015), he is guest professor at Paris School of International Affairs (PSIA, Sciences-Po), and other French and foreign universities. Nicolas has been visiting professor at foreign universities (U.S., Canada, Serbia, South Korea, Indonesia, etc.) and guest speaker at many leading international conferences on security and international issues and policy-making process.
He was from May 2021 to March 2023 the director of the online journal Desk Russie.
His last pieces and lectures are since more than ten years mostly focusing on political risk analysis, European security issues, Russia and Ukraine, NATO, disinformation warfare, Middle-East, US foreign policy, Human Rights and corruption.
He is the author of 22 books, including Political Philosophy; The World in 2030. The Rule and the Disorder; and France Needs Others, and of more than one thousand scientific papers and op-eds.
He founded in June 2021 the foreign policy and security policy blog Tenzer Strategics: https://tenzerstrategics.substack.com/ that has thousands of subscribers worldwide.